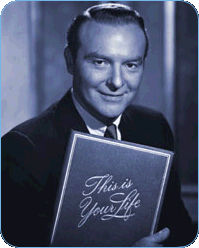 Before the modern reality show,
there was "This Is Your Life."
Do you remember it?
L. wanted to throw me a birthday party. She told me months in advance, and asked me to make a list of 12-15 people to invite. Tricky, that; I wanted people from different parts of my life, but not such a diverse crowd that they wouldn't feel connected to one another. I didn't want to hurt someone by including one person and leaving out another. I decided to just invite women this time and made sure that while nobody knew all the others (except me), everyone would be able to look around and see someone (besides me) whom she knew.
I made my list, and we set the place and time, and L. took it from there. I was a little nervous, especially after she asked me to track down two people who hadn't acknowledged any of her emails. Just two, but they didn't respond to my messages either. I wondered how many others had said "no," or "maybe." But I thought perhaps L. had left me out of the communication loop on purpose, that she'd asked them to prepare for the event in a certain way or bring something specific to this event as a surprise, and didn't want me to know.
The Art of Letter Writing
Sure enough. She had asked each one of them to write me a letter. This is something we had done for some of the girls in our community when they turned 13: words of wisdom. Love it. I wish people still wrote letters. I love getting them, love writing them, but these days the practice seems almost extinct.
In fact, L. had not only asked the women who came to the party to write letters (and read them to me aloud), she had also tracked down all kinds of mutual friends, relatives, and other significant people in my life and asked them to send her a message for me. She printed out the letters on colored stationery and assembled them into a album. More than 50 letters. She made me a book of letters! What fun.
This Is Your Life
meets
The Guernsey Literary and Potato Peel Pie Society
.
Some of the letters are long, some short, some serious, some hilarious. Full of stories, some I'd forgotten, and each showing the unique character of the writer. What a treasure. I'm delighted. And I'm also glad we did this the Saturday before the big day, instead of after. Now when people tell me to have a wonderful birthday, I can smile, knowing I already have.
L. pictured me taking the album to Tattered Cover (our excellent independent bookstore) and reading them while enjoying a pot of tea, on the actual day I turn, um, yes, 40. Well, who can resist? I think I've skimmed them all. I will sit down and look at them all more closely again, then, and leisurely write my thank-you notes. The treasure is mine to enjoy again and again.
A Gift of Words
Many of the people who wrote structured their letters around words. Words for my birthday! What fun. I love words. And they knew it, because I'd taught them how to write newsletters, marked up their copy as an editor, or helped them catch up with me at Speed Scrabble. Here's a word from L's husband J. I'm pretty certain he coined it for the occasion.
"Here are a few of the things I appreciate about the person God has made you," he began.
Megadabblifly, def. 2?

"…You are a multi-tasker, not a multi-slacker. I don't think I've known many people who enjoy the art of "dabbling" as much as you. But you don't just dabble, you mega-dabblifly!




"(Def. Megadabblifly: adj. 1. The rare capacity to be involved in many pursuits and projects and still make a significant and worthwhile contribution to each. 2. A state-of-being experienced by very large flies in the winter months in which they seem stupefied by cold temperatures and fly very slowly and lazily around the room.)
"Of course in your case I refer to definition #1."
Whew!