Chris "sent" me these flowers today. Nice, no?
Sometimes it's the little things that make you feel most alive. Like the exquisite small pang of getting up to pour your second cup of morning coffee and finding you've already had it. Deb and I were laughing about that this weekend. Mmmm, coffee!
* * *
I sent a newsletter yesterday afternoon. It's already generated a record number of responses - primarily, I believe, because it implied I am engaged to be married.
That's not actually the case. But it's not a huge problem if people draw such a conclusion. Chris and I agreed months ago that we intend to marry. He's ready to buy a ring. We're talking about dates in June. A marriage proposal is just a matter of form. Since that's how things are, we're considering an engagement party in November or December during which we would carry out that rite of passage in the midst of friends and witnesses. Bit unconventional, but I think it sounds fun.
No, I don't know
where
we'll have the wedding. But probably someplace in Oregon so as to avoid the stress of long-distance planning.
* * *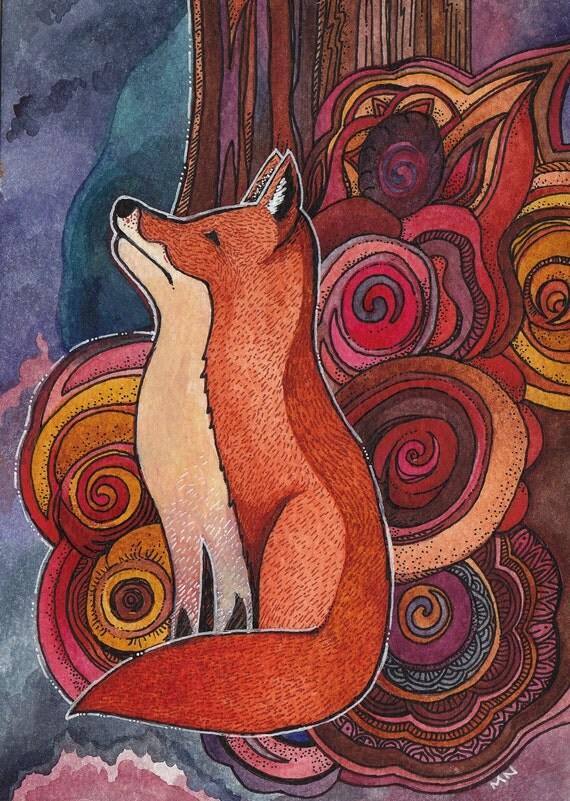 original watercolor by Megan Noel (for sale)
A few days ago I passed through our neighborhood park while on a walk to clear my head. Two little boys coming down the path were cradling something in a T-shirt. I was intrigued.
Yup, a garter snake. They were happy - eager - to show it off the little beauty. "We're going to keep him for a week! Or for a long time! and when he [sic] lays eggs, we'll sell the babies for pets!"
I wonder how the next scene played out with their mom(s)?
* * *
My sister lost her job some months ago. While she's been looking for work she's kept herself sane and happy by doing a lot of drawing and painting.
The results
are pretty fabulous. It's not easy to make a living as an artist. She knows she needs a day job to pay the bills. But it's encouraging that some of her art is selling. Meg has several shows this fall and is getting business through her Etsy shop.